THE SHED AT THE MOMENT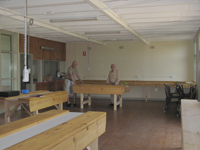 Since its inception in 2007 the Willoughby Community Men's Shed Inc. has grown dramatically. In 2012 Membership rose to over 150 registered members. However, in 2013 when we became an Incorporated Association and took on our own Insurance Policies thus charging a Membership Fee, our Membership dropped to around 75 "fully paid-up members". Of course we still have all our previous members on the books and correspond with them occasionally.
The number and type of machines is still increasing as new and re-purposed machines are acquired by or donated to the Shed, to the point that every inch of the Shed is now fully utilised. Space remains at a premium.
WHAT WE PLAN FOR THE FUTURE
In July 2020 Willoughby City Council endorsed the Willoughby Community Men's Shed Inc. Expression of Interest on the former Warners Park Centre and granted the Shed a licence on the building commencing in January 2021. The licence was finally signed in October 2021.
Now, in 2022, we still have not taken up occupancy of the building. While we have been negotiating with Council over our Development Application to install a new dust extraction system we have been able to install a purpose designed electrical system, new benches, security screens, security alarm and video monitoring
The new floor layout and additional work benches will give members a lot more elbow room and spread out the various machines to create a safer and more efficient work environment. We have been able to un-mothball the range of machines that we have had in storage, just waiting to be put back into use.
WHAT THIS WILL MEAN FOR MEMBERS
More building space means more workspace for members, more members attending each day, more storage space for projects and tools and greater flexibility in members choice and type of projects and an expansion of available technologies, including computer aided processing. Our recenly purchased 3D Router in conjunction with our Laser Engraver gives us a great starting point in our technology expansion.
The potential of the Warners Park Centre is vast and we will take every opportunity to expand and cater for the ever increasing needs of our Members.