THE SHED AT THE MOMENT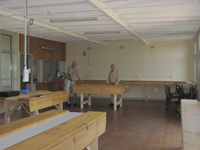 Since its inception in 2007 the Willoughby Community Men's Shed Inc. has grown dramatically. In 2012 Membership rose to over 150 registered members. However, in 2013 when we became an Incorporated Association and took on our own Insurance Policies thus charging a Membership Fee, our Membership dropped to around 75 "fully paid-up members". Of course we still have all our previous members on the books and correspond with them occasionally.
The number and type of machines is still increasing as new and re-purposed machines are acquired by or donated to the Shed, to the point that every inch of the Shed is now fully utilised. Space remains at a premium.
WHAT WE PLAN FOR THE FUTURE
We have great plans for the future of the Shed. These plans include the possible relocation of the Shed to the Former Northbridge Womens' Bowling Club Building, currently the Warners Park Centre.
Willoughby City Council is currently conducting an evaluation of the site and plans to incorporate a range of community uses as well as the potential for commercial activities on the whole of the Nortbridge Bowling Club and Warners Park Centre sites.
The Shed seems to be perfect fit with Council plans, however, our move is dependant upon a number of issues including any proposed commercial use of the site.
WHAT THIS WILL MEAN FOR MEMBERS
As with our previous plans for expansion, more building space means more workspace for members, more members attending each day, more storage space for projects and tools and greater flexibility in members choice and type of projects and an expansion of available technologies, including welding and computer based processes.
The potential of the Warners Park Centre is vast but we must be patient as the whole process will take some time to come to life.