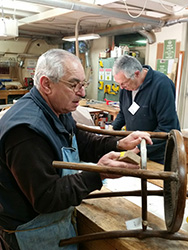 JOINING THE SHED
The simplest way to join the Men's Shed is to visit, have a look around, see what we do, meet the members and fill in a Membership Application Form ...
OR
... you can download and fill in a Membership Application Form and bring it to the Men's Shed.
The Shed has an Annual Membership fee of $50.00 to cover the necessary Insurance Policies and members are expected to contribute $5.00 each attendance day to cover the cost of tea and coffee as well as machine repairs and consumables.
MEN'S SHED GENERAL PROCEDURES
The Men's Shed has a strong focus on Member safety and wellbeing. To support this focus a set of Men's Shed General Procedures has been developed and underpins the day-to-day operation of the Men's Shed. In addition, an Induction Form has been developed to provide new Members with an introduction to the operation of Shed.
WILLOUGHBY COMMUNITY MEN'S SHED INC CONSTITUTION